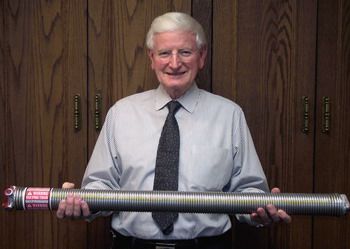 Not all torsion springs for garage doors are created equal. Not even close.
Even though most springs look similar to the untrained eye, there is only one company in the world who dares to offer a lifetime warranty on both the door and the springs----a Martin Garage Door with galvanized torsion springs.
Not so coincidentally Martin was the first company to develop the galvanized torsion spring for garage door use in 1985. This completed a 25-year research process of finding the right engineering to make a spring that will last with the clean look and corrosion resistance that galvanizing offers.
In the rush to save money by buying so-called imitation clean galvanized springs, many door dealers are actually committing themselves to an inoperable door sooner than they experienced with the old-style greasy or paint-flaking torsion springs.
A small gathering of door companies in California illustrates the point. The door executives shared their concerns about the galvanized springs they were buying and about early fatigue issues. It was no surprise to learn none of the companies were using Genuine Martin Galvanized springs.
One official said his experience with the galvanized springs he had purchased angered him to the point of wanting them outlawed and the spring manufacturers reprimanded. He admitted that he had no experience with Martin.
Martin galvanized springs are engineered to last 20,000 to 30,000 cycles. This is a great complement to the Martin garage door product offering, which includes high cycle openers and high cycle garage door components.